 HI-RES
The industrial inkjet printers for printing company logos, batch numbers and other markings and information are a proven, professional system in the production process and boast a high degree of flexibility. The print results are always of a consistent, high-contrast quality, offering an outstanding print image with high-resolution small coding.
The marking systems can be easily integrated into existing production lines and networks. A compact print head, high IP component protection, simple operation and all important interfaces are provided. Whether it be database access or other requirements regarding production statistics, this software means you are always up-to-date and also able to support subsequent processes and activities, such as traceability, quality assurance and customer satisfaction with your products in general.
Hi-Res (High-Resolution technology) is also used for applications with complex requirements involving small fonts and multi-line printing as well as for jobs with minimal spatial requirements and very fast printing speeds. This technology enables fast, high-resolution printing of primary packaging in single- or multi-lane packaging machines, e.g. for food and many industrial applications.
best setup
for perfect printing
Z640 Plus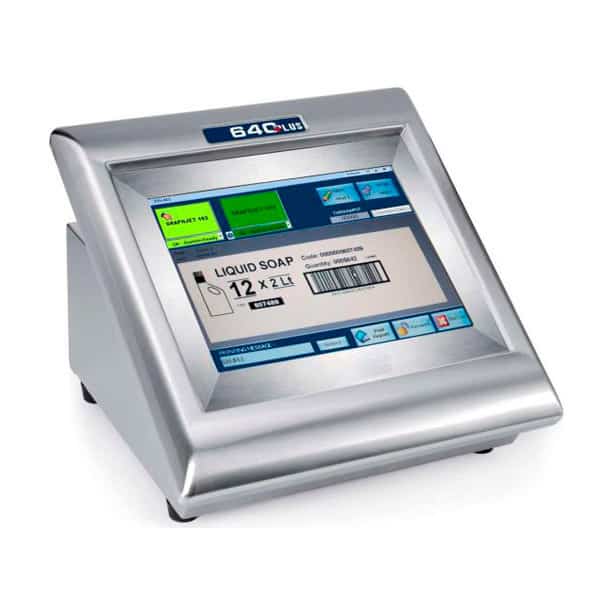 GraphJet50/GraphJet102 connectable

L@ncode® remote management software

Remote service via internet

TeamViewer: fast, online remote access and support

Resolution: 600 x 192 dpi

51/102mm font size/graphics height

Printing speed up to 90 m/min.

50 GB internal memory (64 GB SSD)

GS1 128, Code 128, ITF, EAN 8, EAN 13,
UPC A, Code 39, 2/5 Industrial, 2/5 Interleaved,
CodaBar, PDF 417, DataBar,Data Matrix, QR

Automatic calendar, date printing

Counting functions for up to 9 characters

0°,90°,180°, 270° text rotation
Data
Print head
GraphJet50/GraphJet102
Ambient conditions
Temperature: 5-45°C
Humidity: 0-90% non-cond.
Electrical connection
80-240VAC 50/60 Hz
Font size
51 mm, 102 mm
Connections
2x RS-232, 10/100/1000 Mbit/s LAN, USB 2.0, alarm indicator (BCD)
Connections, optional
WiFi, Bluetooth®
Inputs
Ink level, rotary encoder, Start Print
Housing
Stainless steel, IP54, 99.5 x 251 x 215 mm (H x W x D)
Data
Print head:
GraphJet50
GraphJet102
Font size
51 mm
102 mm
Ambient temperature
5-45°C
Humidity: 0-90% non-cond.
Electrical connection
80-240VAC 50/60 Hz
H x W x D
100 x 50 x 175 mm
150 x 60 x 215 mm
Housing
Stainless steel, IP54
Z1 Thermal Inkjet-Printer
USB 2.0, Ethernet data transfer of text/graphics

Intuitive remote management software (TeamViewer)

Multi-marker-head management

Resolution: 900 x 600 dpi

1–12.5mm font size/graphics height

Printing speed up to 90 m/min.

Fonts: Windows TrueType (all fonts)

Barcodes: EAN-8, EAN-13, EAN-128, Code 2/5, Code 2/5 check, Code 39, Code 39 check, Code 128, DUN14,
GS1 DataBar, Data Matrix, GS1 DataMatrix, QR code, PPN code

Internal memory for 9 different designs

Counting functions for up to 8 characters

Fixed and variable text fields and barcodes

Variable texts (automatic or external)

Real-time consumption recording

0°, 90°, 180°, 270° field rotation
Data
Ambient conditions
Temperature: 5-40°C
Humidity: 10-90% non-cond.
Electrical connection
100-240VAC 50/60 Hz
Resolution
900 dpi x 600 dpi
Font size
1 – 12,5 mm
Connections
RS-232, 10/100/1000 Mbit/s LAN, USB 2.0
Inputs
Ink level, rotary encoder, Start Print, barcode monitor (scanner)
Housing
Stainless steel, IP40, 97 x 82 x 122 mm (H x W x D)