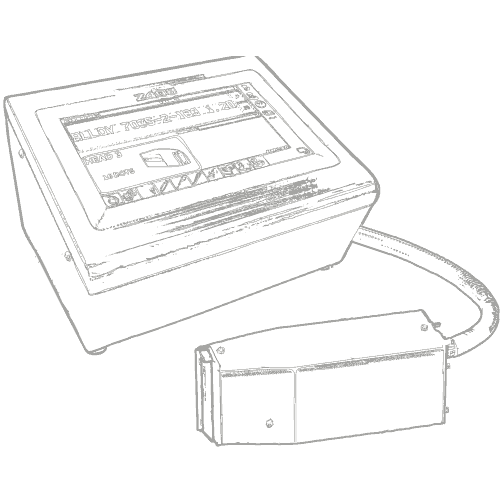 DOD LARGE CHARACTER PRINTERS
Large character printers are equipped with high-performance, intelligent electronics and nozzles with a high switching frequency. This facilitates precision, large-format, low-resolution printing even in fast production processes. You can apply digits, numbers, codes and much more to a variety of surfaces and materials. And this gives you maximum efficiency in your manufacturing process. The inkjet printers feature the latest interfaces, so that they can be optimally integrated into your existing systems. Our proven large character printers will provide you with outstanding performance, even in tough environments, while ensuring high-contrast coding with alphanumeric texts, expiration dates, counters and production batches directly on flat, curved and irregular surfaces. A reliable and efficient printing system suitable for a wide range of application contexts. It makes for a low total cost of ownership (TCO) and offers multiple benefits, better IP protection and consistent and reliable performance, even in tough production environments characterised by humidity, dust or high temperatures.

Thanks to the circulating ink supply system with its continuous and automatic agitation of the ink and the innovative nozzle design of the print head technology, heavily pigmented and viscous inks can also be used for labelling.

The reliable 7/16/32/48-nozzle print heads are made using high-efficiency solenoid technology. We use chemical-resistance Teflon compounds and high-quality stainless-steel connections. These offer excellent impact and vibration resistance on production lines. For more quality and reliability in marking secondary packaging.


The SIGTEK marking system, equipped with a stainless-steel housing and analogue operating concept, is suitable for simple and repeated marking work. High-resolution graphics and multi-line texts can be printed reliably and intuitively with the Lite Z101, Z402 or Z408. A graphical touch display is used to display and interactively create the print result.


Powerful & intelligent
large-format printing
SIGTEK
| | |
| --- | --- |
| | |
| | Printing speed up to 150 m/min. |
| | Up to 8 fixed texts can be called up directly |
| Analogue-based user interface | |
| | Easy data transfer via RS-232/422/485 |
| Optional integrated ink circulation for pigmented marking fluids | Easily refillable 1-litre/10-litre ink reservoirs |
| Up to 5x7-pixel text/graphics can be combined | High-speed modes possible |
| Script functionality for special applications | |
Data
Ambient conditions
Temperature 0-40°C
Humidity: 10-90% non-cond.
Electrical connection
100-240 VAC 50/60 Hz
Interfaces
HAN® 16A, serial interface
Print modes
5x7 dot graphics/text
Font size
20 – 40 mm
Connections
Start Print, rotary encoder, opt. traffic light connection
2 inputs (all 24 V)
Housing
Stainless steel, IP65 300 x 200 x 250 mm (H x W x D)
Print head
Anodized aluminium 40 x 40 x 186 mm (L x W x H)
Lite Z101
| | |
| --- | --- |
| | |
| | |
| Printing speed up to 60 m/min. | |
| | Max. 80 digits per text field |
| Fonts available: 5 x 5 and 7 x 5 | Automatic calendar, date printing |
| Counting functions for up to 9 characters | |
| Forwards/backwards printing | |
| | |
Data
Ambient conditions
Temperature: 0-40°C
Humidity: 10-90% non-cond.
Electrical connection
85-240VAC 50/60 Hz
Interfaces
RS232 (optional)
Print modes
7-dot graphics/text
Font size
7 – 20 mm
Sensor
Integrated for Start Print

Indicator
Low ink
Housing
Stainless steel, IP54, 87 x 200 x 140 mm (H x W x D)
Print head
Stainless steel, IP54, 196 x 50 mm (L x Dia.)
Z402
| | |
| --- | --- |
| | |
| | Single-/two-line graphics/labelling |
| 7–60 mm font size/graphics height | Printing speed up to 180 m/min. |
| | |
| 4 GB internal memory, expandable by microSD card | Fonts: 5x4/5x5/7x4/7x5/9x7/10x8/16x10, True Type |
| Barcodes: Code 2/5, UPC-A, Code 39, EAN-13 | Automatic calendar, date printing |
| Counting functions for up to 9 characters | |
| Forwards/backwards printing | 0°, 90°, 180°, 270° text rotation |
Data
Matching print head
7/16-nozzle print head
Ambient conditions
Temperature: 0-50°C
Humidity: 10-90% non-cond.
Electrical connection
85-240VAC 50/60 Hz
Print modes
5/16-dot graphics/text
Font size
7 – 60 mm
Connections
RS-232, 10/100-Mbit/s LAN, USB 2.0, alarm indicator (BCD)
Inputs
Ink level, rotary encoder, Start Print

Housing
Stainless steel, IP54, 99.5 x 251 x 215 mm (H x W x D)
Z408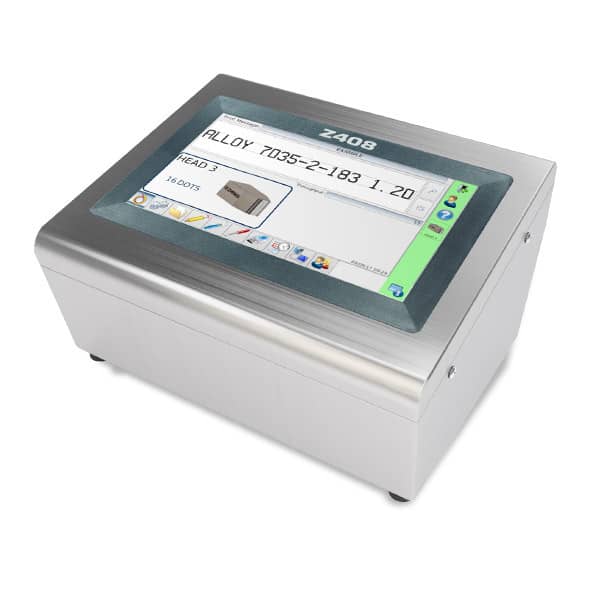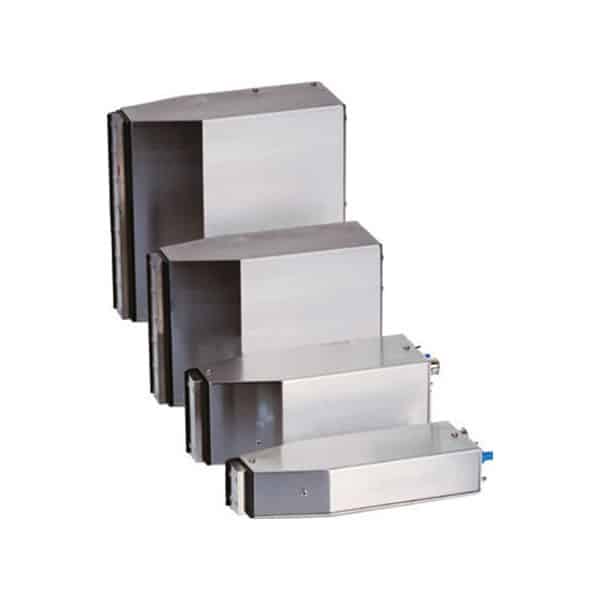 | | |
| --- | --- |
| | 7/16/32-nozzle print head |
| | 7-190 mm font size/graphics height |
| Printing speed up to 180 m/min. | |
| | 4 GB internal memory, expandable by microSD card |
| Fonts:5x4/5x5/7x4/7x5/9x7/10x8/12x10/16x10/24x16/32x18, True Type | Barcodes: Code 2/5, UPC-A, Code 39, EAN-13 |
| Automatic calendar, date printing | Counting functions for up to 9 characters |
| | Forwards/backwards printing |
| 0°, 90°, 180°, 270° text rotation | |
Data
Matching print head
7/16/32-nozzle print head
Ambient conditions
Temperature: 0-50°C
Humidity: 0-90% non-cond.
Electrical connection
85-240VAC 50/60 Hz
Print modes
7/48-dot graphics/text
Font size
7 – 190 mm
Connections
RS-232, 10/100-Mbit/s LAN, USB 2.0, alarm indicator (BCD)
Inputs
Ink level, rotary encoder, Start Print

Housing
Stainless steel, IP54 132 x 305 x 258 mm (H x W x D)