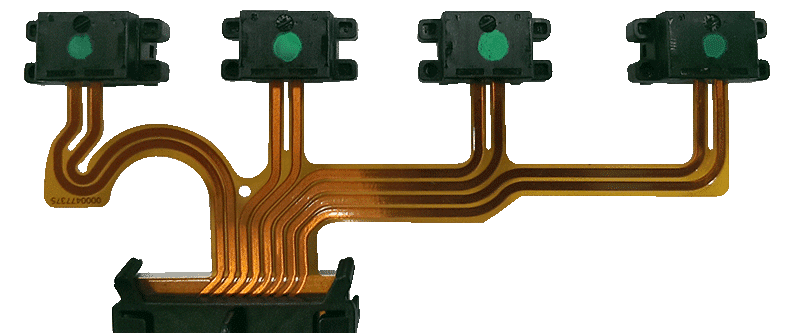 QUALITY MARKINGS
Quality markings ensure a reliable and consistent flow of materials in manufacturing processes. The question of the quality of a product applies in all areas of life. In industrial production, quality control systems monitor compliance with certain parameters with suitable testing systems and instruments, such as crack control. Quality markings or quality markings ensure a reliable and constant flow of materials in manufacturing processes.


Rubber (e.g. manufacturing)
Wood industry (e.g. position marking)
And others. Ask us!
Tasks in manufacturing processes (monitoring, sorting)
Automotive industry (e.g. system assembly)
Metal industry (e.g. automation)
APPLICATION EXAMPLES QUALITY MARKINGS
QUALITY MARKINGS ON WOODEN BOARDS

MARKING OF WOODEN BOARDS ON TONGUES
As shown in the image, the entire surfaces of wooden boards on tongues were marked at conveyor speeds of max. 110 m/min. The marking can be applied on one or on both sides of the tongue. The marking paint for different products in the manufacturing process can be chosen from three different marking colors (example) which are stored in three printing tanks.

The color variant can be chosen freely from mark to mark or, if there is only one marking head, selected via the corresponding marking channel button during a marking system color change. In the process, the desired new color can be fed to the marking head by an automatic rinsing and loading procedure. A forth container with cleanings¬ liquid is designated for this. This requires manual action in order to place the collection container in front of the marking heads and to start the color change. Besides using the control input and the "TM Markieren" ("mark TM") button, a marking can also be triggered by the AND circuit of the two connected light barriers: The marking is performed as soon as both light barriers / optical sensors are activated.

QUALITY MARKINGS ON WOODEN BATTENS

Roof battens are offered in different qualities. To be able to clearly identify them, a highly visible full-surface marking will be applied on the front side of the roof battens, which are safe to step on and a particularly important element for the construction of roofs. The marking can be performed individually on each work piece or on the entire package. There is no overspray. The marking is weather-resistant and fit for storage.