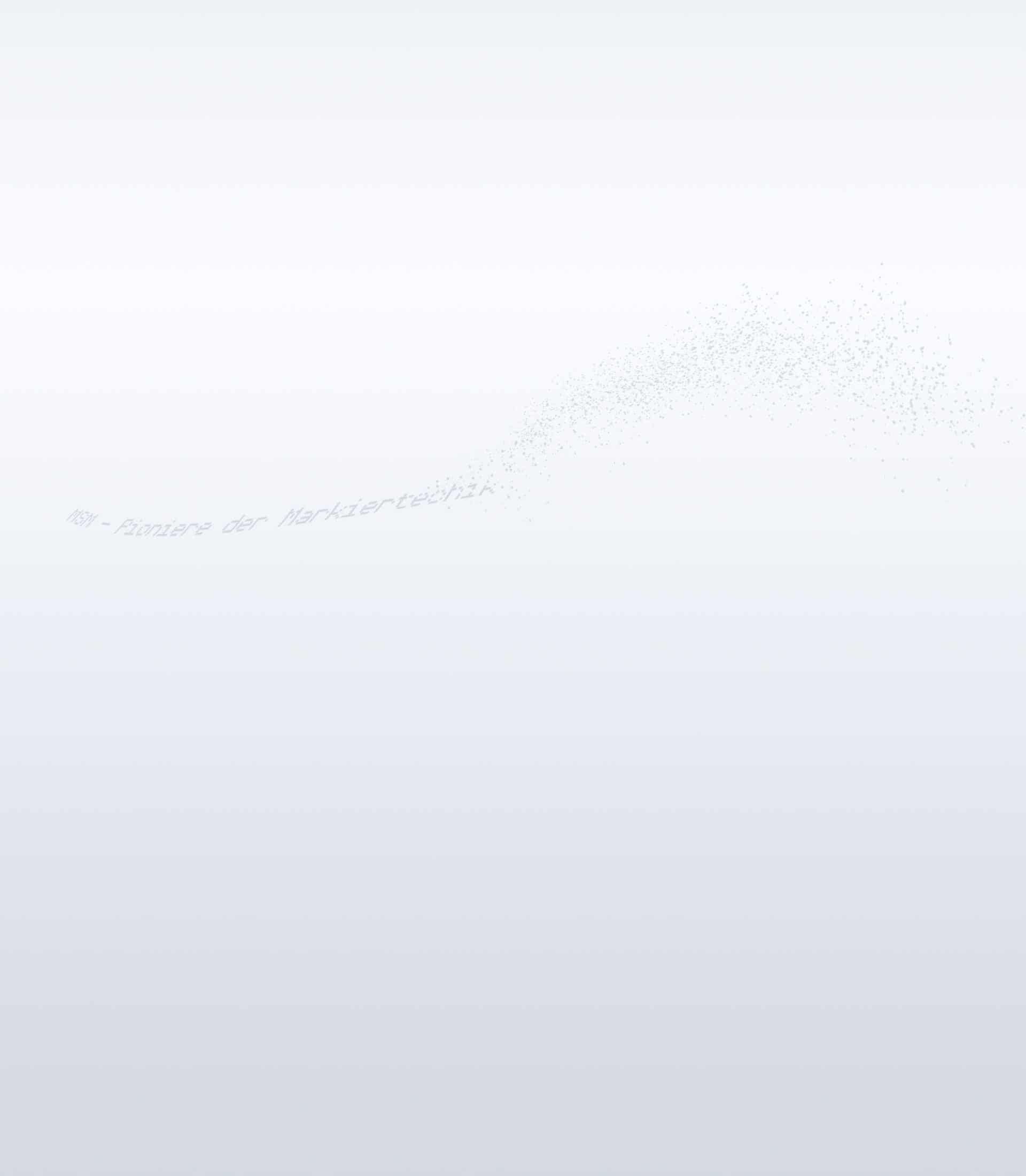 1
C
Color marking systems, Color dot, Color marking, Color changing ink, Cable marking, Color dot marking, Control device, Circulation system
COLOR MARKING SYSTEMS
Color marking systems are used for the color marking of components with a wide range of different surfaces so that they can be identified clearly. See also
COLOR DOT
See also
Color marking systems
Dot marking
COLOR MARKING
Color marking marks a work piece with a color dot in order to be able to see defined characteristics after a quality inspection or a production step using color marking systems. See also
Marking color

COLOR CHANGING INK Color changing ink is used to regulate temperatures in production processes. CABLE MARKING Cable markings are usually visualized after inspections of different parameters, geometries, or materials. Cable markings can also indicate certain properties to end users, such as cable ends. COLOR DOT MARKING Color dot markings provide clear markings and can be applied for quality assurance, assembly, typing and many other purposes. Color dots can be detected using optical sensors or cameras and are used to control downstream production processes. CONTROL DEVICE The control device is the control and regulating unit of a marking system. The external signals of a PLC or the equipment control system are received, analyzed, and processed according to the programming. Then the corresponding marking is triggered. CIRCULATION SYSTEM FOR PIGMENTED INKS Circulation systems are used exclusively for pigmented inks / marking systems. Due to their weight, the pigments separate from the fluid and conglomerate in the tank or in the lines. A pump and/or an agitator provide for an even circulation and a homogeneous mix.
2
D
Defect marking, Drop-on-demand. Dye based ink, Dot marking, Direct thermal labels
DEFECT MARKING
See
DROP ON DEMAND MARKING SYSTEMS
DOD printers (DOD technology) are marking systems that release a drop from a pressurized nozzle when this is required for the print image. If no ink drop is released, the ink will stay inside the ink reservoir in front of the closed nozzle. The nozzles are closed using tappets or valves (steel, ruby, sapphire). The nozzle is opened using a control signal / marking signal of a control device. In the process, a software program calculates the matching time for the opening of the nozzle and the stop signal for the release of the drop. This creates a precise dosing jet for non-contact application and an optimum drop formation.
DYE-BASED INK
Dye-based inks are used to mark and label light-colored surfaces. The dyes are completely dispersed in the solvent, forming a homogeneous mix that usually does not need any circulation (e.g. dissolved table salt).
DOT MARKING
A dot marking is ideal for quality assurance purposes or to mark a product with its product properties. However, a dot marking can also specify different product parameters or important product processes, such as hardening, position points, and more.
DIRECT THERMAL LABELS
Direct thermal labels can be used for universal and cost-effective markings, for short usage durations and low durability requirements. The label's thermo-sensitive surface will include the information. Therefore, no toner or ribbon is required.
3
E
EAN code, Error Marking
EAN CODE The EAN code (European Article Number) is a numeric code for the individual marking of products. Thus, it is a standardized international item number. In 2009, the EAN code was renamed to GTIN (Global Trade Item Number), however the term EAN continues to be used to a large extent in everyday language. In general, the EAN code includes 13 digits (EAN-13 code). An 8-digit version is used on very small packages due to lack of space (EAN-8 code). ERROR MARKING Color markings are required in quality assurance to reliably mark scrap or parts that have to be reworked.
GLASS MARKING High-resolution cameras or detectors allow for the detection of even the smallest of defects, such as dust particles or other inclusions in the glass so that the glass can be marked using a marking system. Thus, the glass marking can be used effectively for downstream processes.
HAND MARKER / HAND MARKING DEVICE / MOBILE PRINTER The MK19V can be used flexibly to mark at a manual work station.
6
I
Industrial Label sytems, Industrial Marking, Industrial Marking systems, Inspection marking, Ink (marking fluid), Ink cleaner
INDUSTRIAL LABEL SYSTEMS The term industrial label systems describes all marking devices used in industrial production. The label system can be integrated into the plant design or work as a stand-alone unit. Thus, the label systems offer a reliable marking of products with their manufacturing dates and other important information, for instance. INDUSTRIAL MARKING Industrial marking generally refers to the labeling and marking of components during the manufacturing process. Industrial marking is used either to classify products according to specific criteria or to apply information necessary for later tracing. Our non-contact label systems are particularly ideal for the application of industrial markings. You will find more information on this here. As product tracing is increasingly required, industrial marking is becoming more and more important. INDUSTRIAL MARKING SYSTEMS Industrial marking systems provide users with a variety of product marking possibilities for optimized marking and labeling. Products can be marked with anything from simple color dots up to complex labels as they are moving or while standing still.
INSPECTION MARKING An inspection marking allows for qualification and attribution in the process chain. The inspection marking can be analyzed reliably using a camera system or other optical sensors. INK (MARKING FLUID) A low-viscosity ink with different solvent combinations is offered to mark components. These inks are either dye-based inks or pigment inks. The ink formulations can be used reliably just about anywhere. INK CLEANER An ink cleaner matching the marking fluid is always used to clean the print heads and flush out the ink lines and the tanks.
JET SPRAY PROCESS The jet spray process with compressed air atomization is a conventional jet spraying process that is suitable for different sizes. It provides high-quality spray patterns. Airless or full jet spraying process is a spraying process without compressed air atomization. The compressed air is not required for the material atomization. The spray pattern is regulated by the nozzle diameter and the material pressure, there is no noteworthy rebound effect. It is suitable for small and even the smallest of color markings. Other terms used to refer to the material application systems are: jet spraying unit, jet spraying device, and jet spraying machine.
8
L
Labeling technology in industrial production, Labels, Label printer, Label dispenser, Large character printer, Length marking, Line marking, Luminescensce scanners / sensors, Line marking
LABELING TECHNOLOGY IN INDUSTRIAL PRODUCTION In the industrial manufacturing process, labeling technology is used to apply batch numbers and other product labels, providing for the clear identification of the products. The marking technology and a label printer can be integrated into an existing production environment or even configured for a partially automated manual work station. LABELS In general, two types of labels are available: direct thermal labels / thermal transfer labels. They are mostly self-adhesive labels. The available thermal transfer label types range from paper labels, vinyl labels, polyester labels, and polyethylene labels up to textile labels, high-temperature labels, and decorative labels. Thermal transfer labels are printed in thermal transfer printers using thermal transfer film and feature a high print quality. LABEL PRINTER Printers / label printers can be divided into 5 categories and their corresponding printing technologies: Impact, thermal, inkjet, and 3D technology. LABEL DISPENSERS Label dispensers provide and automatically apply preprinted self-adhesive labels and films, generally straight from the roll. The labeling process consists of two steps: dispensing and applying. When the device is equipped with an additional integrated printing system, it is called a label printing dispenser to distinguish it from pure label dispensers. A label dispenser unwinds the labels from the roll, releasing them from the carrier tape or film via a dispenser edge by means of a feed motion. It then makes the label available for application in the precise transfer position. The remaining carrier tape or film is wound up on a second roll. LARGE CHARACTER PRINTER (LCP) / DROP ON DEMAND (DOD) The large character printer with the MK18 marking head is ideal to print texts and simple graphics in industrial production processes. With a font height of up to 40 mm, large character printers are usually used to label larger parts. LENGTH MARKING The manufacturing of film, paper, and nonwovens requires length markings for length measurements. With goods supplied in continuous length, slack and material stretching leads to differing measures in production. To calibrate the system and to also determine the exact position of the error, a length marking is required. The marking system is adjusted by means of a rotary encoder signal. LINE MARKING A line marking can be applied on a surface using linear drive technology or the product's feed motion. Product properties are marked to optimize the control of downstream processes. LUMINESCENCE SCANNERS / LUMINESCENCE SENSORS Luminescence sensors detect markings that glow under UV light. This is made possible by fluorescent materials that are contained in the marking and convert the UV light they receive into visible light. The reflected ray of light (e.g. emitted UV blue e.g. through SMD => visually visible blue) is received and analyzed by the luminescence sensor. The signal can be analyzed either as a 24VDC switching pulse or as a quantifiable analog signal. LINE MARKING A line marking can be applied onto the surface by means of the nozzle arrangement inside the marking head (multi-jet marking head) or the product's feed motion. Product properties are marked to optimize the control of downstream processes (e.g. cross-cut saw control system).
9
N
Non-contact marking, Non-contact coding system, Nozzle
NON-CONTACT MARKING
Non-contact marking using a plant marking system protects the material. The marking is applied to the product's surface with the optimum dosing of the marking fluid. The drying time is determined by the diameter of the color dot or the width of the line and the composition of the solvent as well as the structure of the surface. See also
Marking technology
Marking inkjet
NON-CONTACT CODING SYSTEM
In industrial marking, a non-contact coding system consisting of one or several marking nozzles is used to create colored dots or lines. A combination of different geometric forms can also be used. Coding systems are designed for extreme conditions in an industrial environment, offering a maximum degree of flexibility.
NOZZLE
The opening the ink of a marking head comes out of is called nozzle. The marking fluid is applied through the nozzle onto the component to be marked using pressure.
10
M
Marking of good parts, Marking systems, Marking technology in industrial production, Marking paint / fluid, Marking ink, Marking chalk, Marking device, Marking gun, Marking systems
MARKING OF GOOD PARTS In contrast to error marking, the marking of good parts provides process-specific benefits. The marking intervals are generally shorter. MARKING SYSTEMS Industrial marking systems are devices, equipment, machines, and hand tools for the reliable marking of the relevant production data taking into account the applicable laws and guidelines MARKING TECHNOLOGY IN INDUSTRIAL PRODUCTION The possibilities created in today's marking technology by the powerful connectivity of all parts involved in the production process lead to tough requirements. From color dots for identification purposes up to complex data matrix codes for enterprise resource planning systems: Flexible marking technology is needed in industrial production. With this, the term marking technology universally covers all industrial procedures to mark, label, and code products and packages in order to be able to clearly identify and trace them. MARKING PAINT/ MARKING FLUID Marking paint fundamentally consists of the following components: colorants (pigments or soluble colorants), binder agents (resins), solvents, and various additives (e.g. to stabilize the dispersion). The combination of these components is adapted individually to the specific project, e.g. in terms of drying times, visibility, abrasion resistance, elasticity, reliability, and more. At MSM, the raw materials used are selected based on the aspect of the sustainable use of resources. MARKING DEVICE / MARKING DEVICE INDUSTRY Among others, the marking device is also described by the following terms: Marking device, color marker, color marking system, and marking system. These are devices and machines used for marking purposes in industrial production. The industrial marking devices of the SIGTEK marking systems series were designed for color dot, dotted line or line markings. MARKING HEAD The marking head basically includes the nozzle, the valves, and the supply connections (signal line, fluid/air hose). It is the marking system unit used to apply the marking fluid on the surface of the component. The type and the material of the marking head housing is determined by the applied marking method. MARKING PEN A marking pen is an industrial marker for labels and markings. Industrial markers are used to manually or automatically apply inspection markings. The fiber tips can be exchanged and are available in different widths. They are equipped with a valve system, and the marking fluid can be refilled. MARKING SYSTEM / MARKING SYSTEMS / MARKING MACHINE Marking systems / marking machines are also described using the following terms: marking device, color marker, color marking system. In industrial production, these are devices and machines used to mark the product parameters. MARKING TECHNOLOGY The methods used to mark work pieces in manufacturing, quality assurance, and also in safety technology are summarized with the term marking technology. This includes manual tools and techniques (marking pens, labels, embossing & more) as well as automatic or semi-automatic devices for stamping or color markings. MARKINGS Markings can consist of colored lines or dots. They are used in industrial production to mark products with their parameters. Compared to other marking techniques, color markings are cost-effective and can flexibly be integrated into automation. MARKING INKJET Inkjet marking is contact-free and protects the material. It can be used reliably for almost all materials. The low-viscosity inks are adapted to the specific projects with variable dispersions. Compared to other marking techniques, ink markings are especially cost-effective. MARKING DEVICE QUALITY ASSURANCE In quality assurance, a marking device can be used to reliably mark scrap parts after an inspection or a measurement. In the process, a visible color dot or a fluorescent mark is directly applied onto the product for classification. MARKING AGENT All materials used for marking or differentiation purposes as well as the objects included in a device (embossing, die) that cause a change in the surface are marking agents. MARKING METHOD There are basically two categories that can be attributed to the marking process: Jet spraying is applied without additional compressed air at the nozzle and, in a small distance, result in a small color dot as the spray pattern. Broad spraying can be used for particularly broad markings and is therefore ideal for very fast drying times. MICRO VALVE The micro valve inside the marking head is actuated electromagnetically, with the medium directly flowing through the micro valve. When de-energized, the micro valve is closed. The closing spring acts on the mobile anchor with the valve ball. When the valve coil is energized, the mobile anchor with the valve ball is attracted magnetically by the magnetic field of the stationary anchor. The micro valve then opens and the medium comes out. MARKING INK Nowadays, the term marking ink refers to all marking fluids and printing inks used to mark objects such as wood, cardboard, glass, metal & more. The original meaning of signing something, i.e. characterizing it according to manufacturer, product, or date, is no longer up-to-date. Because of modern printing processes, the transition is seamless. Like marking fluids, marking inks contain: colorants (pigments or soluble colorants), binder agents (resins), solvents, and various additives (e.g. to stabilize the dispersion). MARKING CHALK The term marking chalks designates chalks suitable for the weather-resistant, lightfast marking of dry and wet wood as well as stone, asphalt, metal, and other materials. MARKING DEVICE For marking device, see also • Marking systems MARKING GUN For marking gun, see also • Hand marker MARKING SYSTEMS Marking systems / marking machines are also referred to using the following terms: marking device, color marker, color marking system. In industrial production, these are devices and machines used to mark the product parameters.
11
P
Plant marking system, Print marks, Photocell, Permanent marking, Pigment ink, Product identification and traceability, Product marking
PLANT MARKING SYSTEM
A plant marking system automates the marking of products and work pieces in production. The marking systems can also be integrated into existing production plants and controlled using a PLC. The range of tasks is varied, from simple color markings to complex coding. See also
Marking device
Marking systems
PRINT MARKS
Print marks are used in the DTP area. The print is controlled according to color, position, and quality. The position is generally located at the edges and is cut out. Print marks can be created manually or automatically in the different DTP programs such as QuarkXPress, InDesign, and Scribus. Print marks include crop marks, register marks, the name of the color separation, the name of the file, bleed margin marks, and control strips, crop marks / folding marks
PHOTOCELL
A photocell is an optical sensor capable of recognizing the shape and color of moving objects. When it recognizes a specified parameter, the photocell sends a start impulse to the connected marking system.
PERMANENT MARKING
A permanent marking is a permanent feature that is required for assembly (installation position) or expresses another product property.
PIGMENT INK
Pigment ink is a marking fluid with insoluble colored substances. Contrary to pigment ink, the ingredients of dye-based ink are mostly completely dissolved. Due to the solids they contain, pigment inks can reach a high opacity. This makes pigment ink ideal for dark surfaces.
PRODUCT IDENTIFICATION AND TRACEABILITY
The product identification across the entire process chain up to the end customer provides for traceability in case of a complaint. This is generally achieved by marking the product with its specifications (batch number, date & more). Invisible product markings: Invisible information carriers or invisible marking inks such as UV ink are often used to mark products for a company's internal use or to communicate with customs authorities.
PRODUCT MARKING
The product marking contains information about a product that accompanies the product throughout the production process or until it reaches the end user.
QR CODE The QR code (quick response code) was created to allow for quick and safe access to electronic data. The QR code is a two-dimensional code that was developed for logistics tasks by 4 employees of the Japanese automotive supplier Denso. More recently, this code has established itself for use in the consumer area. The code frequently provides quick access to Internet-based data, for example on advertising media or packages as well as in print media. QR codes consist of square fields in which the arrangement and the number of the so-called modules are binary representations of the coded data.
ROTARY ENCODER / ROTARY PULSE ENCODER The rotary encoder / rotary pulse encoder is a component that creates pulses through rotation, decoding the length into individual pulses in the process. This measures the current speed of a moving band (e.g. paper web, steel sheet), transmitting this speed to the connected marking system. Rows of dots will be adjusted to the writing speed, and the distances will stay consistent.
14
S
Solvent Make up, Steel color marking
SOLVENT MAKE UP The term solvent or make up in short generally refers to an ink component in small character printers to compensate viscosity in case of solvent loss. A small solvent loss occurs in the running process because of diffusion, which is measured by the viscometry (measuring device: viscometer). STEEL COLOR MARKING Color markings are required in the steel processing and manufacturing industry for a variety of tasks. Among other uses, color markings are applied to alloys or after ultrasonic or similar inspections.
15
T
Thermal transfer printer, Thermochromic colorants pigments, Thermal transfer films
THERMAL TRANSFER PRINTER
With thermal transfer printers, a film coated on one side (thermal transfer film) is fed between the paper and a print head. The print head includes numerous heating elements (pixel points: 203dpi, 305dpi) that then transfer the print image. If one of the heating elements is activated and the print head is heated, the color coating on the film will melt and be transferred onto the paper by means of the printing process. See also
Label printers
Thermal printing
THERMOCHROMIC COLORANTS AND PIGMENTS
The property of certain substances (e.g. crystals) to change their color when the temperature changes is called thermochromism. This process can be reversible, i.e. after cooling down, the substances change back to their original color. The reason for these color changes is found in changes in the molecular or crystal structure of the color substance.
THERMAL TRANSFER FILMS
Thermal transfer films are used as ribbons for thermal transfer printing. These thermal transfer ribbons are used for a diverse range of printer models. The print result is excellent. To begin with, one difference is inside winding vs. outside winding. Other quality features are: Wax foils: Suitable for matt, uncoated paper surfaces. The print is not permanent and can be smudged. Wax/resin compound foils: Wax/resin compound foils: can be used universally to print on matt, coated paper and plastic surfaces. The print is abrasion-resistant and virtually humidity-resistant. The print can be dissolved by chemicals. Resin foils: Ideal to print on plastic surfaces. The print is extremely abrasion-resistant, humidity and moisture-resistant and also features a high resistance against a number of chemicals.
UV INK / UV MARKING FLUID Products can be marked using a visually visible or an invisible UV ink. The marks can then be read and clearly attributed using a UV source, e.g. a UV sensor.
WOOD MARKING Wood marking has several functions. For instance the control of the material flow, quality assurance, compliance with EU requirements, or information for the end user. The marking technology also has to be well implemented in the production of a saw mill, taking into account the natural differences of a product of nature with different surfaces in a production line (e.g. resin pockets, knotholes, color nuances).